Average Teaching Years of Faculty
Please Read Carefully Before Registering
Registration Services
Insanely busy? Technologically challenged? Or just plain don't want to fill out all your registration information? Let us handle it for you!
Dance League is now offering registration services for just $75!
*Studios bringing 50+ dancers (does not include teachers or observers) may receive complimentary registration services.
All you have to do is email clients@danceleagueusa.com with your registration information and we will get it done for you! Simple as that.
General
If you are registering by mail, please send one registration form per studio or per group of dancers. If you are registering online, you will receive a confirmation at the end of the registration process.
Please send one check/money order for all registration fees and one separate check/money order for all competition fees. When registering online and paying by check, the address will appear once you have clicked "Pay By Check" under the Payment option.
To ensure special host hotel rate and availability, please make your reservation directly with the hotel prior to cut-off date. When making the reservation, be sure to inform them you are with Dance League.
Video recording devices are not allowed at competition. No camera equipment allowed in the showroom area as it can be dangerous to the audience (ex. tripods). Regular non-flash photography is allowed.
Wristbands (ID bracelets) should be worn at all times for the duration of the event.
Chaperones are required for all dancers age 15 and under staying at the host hotel. All dancers must wear cover-ups when leaving Dance League areas. We ask everyone's cooperation in respecting other hotel guests and the hotel property.
Dance League reserves the right to refuse admittance to, or remove anyone that is disruptive, unruly or displays rude, unacceptable behavior. This will be determined by Dance League and their staff.
Workshop schedule will be available one week prior to the event. Schedule may vary from city to city depending on competition registration. Faculty subject to change.
Fees and Ages
Workshop rules require the ages listed should be used as a guideline. The Studio Owner and/or Teacher may decide whether to place a student by age or ability. This can be done by their discretion only. Changes in level can be made before lunch on the 1st day of the workshop as per our workshop safety rules. Please visit a Dance League staff member for any of these changes. A new wristband will be exchanged at this time.
NOTE: In some cities different rooms and age levels may be combined. Studio Owners: Special discounts are available for you. Please inquire before submitting your completed registration form with one of our Dance League staff members by calling us directly. They will be happy to assist you!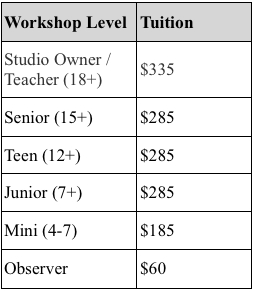 Mini Workshop
At Dance League we want to give dancers ages 4-7 an introduction to the convention world. The program is designed for young dancers who want to experience Dance League, but find a full day of classes too challenging. The Mini Workshop will include 5 classes over a two day convention.  Minis are welcome to audition for scholarships.  Times will be listed on schedule 1 to 2 days prior to the event date.
Registration
There is no guarantee of on-site registration. Early registration is encouraged to secure your space at Dance League.
Students do not have to compete to attend any Dance League event. However, students must be registered for the workshop in order to compete.
All returned checks will be subject to a $40 fee.
No cash refunds will be issued for workshop fees. A credit for a future Dance League event will be issued if necessary. All credits will be issued at the discretion of Dance League Directors.
Students are welcome to attend Dance League as independents if (a.) not currently studying with a studio or (b.) attending an event without their studio present.
Discounts & Promotions
Teacher Discounts
Register 10 full paying* students = 1 Teacher attend free
Register 20 full paying* students = 2 Teachers attend free
Register 30 full paying* students = 3 Teachers attend free
Register 40+  full paying* students = 4 Teachers attend free
When calculating total number of students, do not include scholarship recipients or Observers. Please add them to the space provided. If registering online, the discounts will be issued during your registration process.
College Discounts available with proper valid ID. Please call the Dance League office to handle registration and receive rates.
Promotion Codes must be entered in at the time of registration.
Confirmations
Studios and independents will receive a confirmation email detailing their workshop participants, competition routines and payment information. Upon arriving to Dance League, visit our registration booth to receive all necessary materials for you, your staff, students and observers.
Scholarships
If you have received one of our Dance League scholarships and are registering online, add the name of student and select "Scholarship" or "Half Scholarship" accordingly when filling out your form.
Scholarships can only be used for Senior, Teen, Junior, and Mini students (4 +years). No scholarships for Teachers. Scholarships can only be applied to workshop tuition.
Scholarships may not be combined with other promotions or discounts.
Observers
NO teachers, dancers, studio owners, or managers may register as Observers.
Parents of registered dancers are allowed into the workshop classes if they have purchased an Observer wristband.
All Observers must be attending with paid students only and may not be Teachers, Studio Owners or dancers.

Observers do not have access to the Teacher room or closed rehearsals at any time. Observers are NOT allowed into auditions.

Observer wristbands are not required for The Opening Ceremony, the Competition or the Closing Ceremony.

Please, out of respect to everyone, no excessive noise or talking during the classes. It can be distracting to the dancers and teacher.
Important
Schedules and faculty are subject to change without notice.
Wanted True Master Classes
92
Amazing teachers! Our dancers love the DL experience!!
Love Desiree & Ashley! Dance League will be awesome!!! So excited!
I have to say my daughters absolutely LOVED this event!! I can give a very unbiased review because I am a mother of twin dancers. Although they are twins they both had very different experiences and both want to return.